EVO vs EVO Shift vs Touch Pro2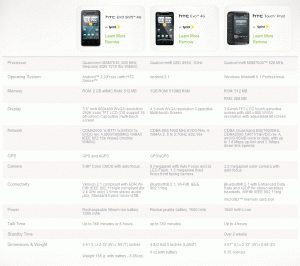 We'll be doing some comparisons over the next few days comparing the EVO Shift to other popular phones.  This time we're doing a quick compare to the EVO which is the awesome 4.3″ no keyboard smart phone and also comparing the EVO Shift 4G to the Touch Pro2 which is similar in function as it has a slide out keyboard.
The Touch Pro2 has Windows Mobile 6.1 Pro…I'm telling you right now that if you want a phone with a slide out keyboard go with the EVO Shift  for several reasons but the biggest is the OS.
The android platform BLOWS away the old dated winmo 6.1.  This is like comparing a 1965 dump truck to a 2010 Porsche cayman…there is no comparison.  Don't take my word for it, go check them out in the stores and see for yourself.  Then come back and get an EVO Shift case